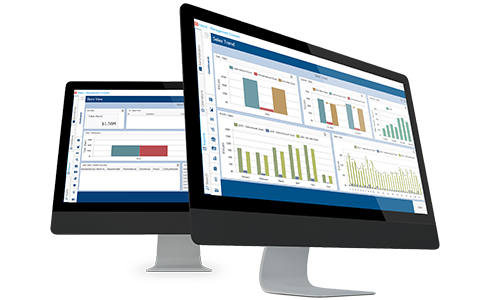 Identify trends from your total retail ecosystem, with iVend Reporting and Analytics
Seamlessly integrated with the iVend Retail management suite and iVend Enterprise, iVend Reporting & Analytics delivers Business Intelligence reports that give you a 365° view of your enterprise to help you make critical business decisions.
Instantly generate customized reports or utilize 50+ pre-built reports with at-a-glance and drill-down views of your most important retail KPIs. Gain tactical insights to make faster and more effective decisions. iVend Reporting and Analytics can be viewed on-the-go from any iOS or Android device, giving your operations and leadership teams visibility into the sales and inventory data they need, when and where they need it. Knowledge is power. Put your data to work for you to make more informed decisions and optimize the success of your retail organization.
Enter The New Era of Retail Analytics
Learn why sales reporting is a must-have for any retailer in our free whitepaper, "Retail Analytics – The Perfect Business Enhancement."
Enterprise-wide Visibility
Manage operations in all channels by exceptions and alerts to get straight to problem areas. No more wading through pages of reports to get to the real issues.
Access data immediately whether you are in the o ffice, in store, at home or on-the-go via any Android and iOS device or browser
Strategic Insights
Short-term: inventory turnover rates with alerts to avoid stock outs
Long-term: detailed analysis of retail transactional data for organizational planning
Comparative Analysis of Historical & Current Data
Historical retail data comparisons
Compare week-to-date, month-to-date, year-over-year or annualized data
Sales Trends and Figures
Generate sales trends reports on SKU performance
Analyze non-performing products and vendors, and manage inventory accordingly
Analyze fixed, mobile POS and non-store transactions to identify loss prevention concerns and issues to address
Real-time Inventory Alerts

Customizable to prevent stock-outs and inventory distortion
Precise Analysis
Drill-Down & Master Filtering
Display detailed information, or drill-up to view generalized data
Master filter supports Multiple and Single selection modes
Evaluate Individual Stores, Products & Roles
View top-performing and non-performing stores
Evaluate individual products and promotions
Identify successes on an exception basis so that they can be replicated across all stores or channels
Easy to Implement
Use pre-built templates showing retail industry standard key performance indicators (KPIs) and focused analytics to identify successes and challenges quickly
Fast deployment, configuration and integration with your existing systems, giving a rapid return on investment
A comprehensive set of pre-packaged, customizable dashboards providing detailed key performance indicators and alerts across all operations and channels
A set of standard reports covering the common areas need to run retail operations effectively, which can be run to a schedule or on demand
An easy to use report writer so that users can develop their own simple reports without IT assistance
A full function report generator allowing more complex reports to be developed on an ad-hoc basis as needed, either by Power Users or IT staff
A query builder for ad hoc reporting and queries
A web viewer to allow reports to be viewed via a browser or on mobile devices
A report scheduler so that reports can be distributed to a pre-set timetable
SMS capability allowing authorized users to send a text message code which triggers the running of a suitably formatted report, with the results emailed to the requester's mobile device
Available Reports
Sales (by channel, store, sales associate and transaction)
Margins and Promotions
Products and product groups
Basket and affinity analysis
Inventory consumption and status
Customers and customer segments
Payment methods and trends
Loss prevention alerts
Analysis by attributes
Reporting Capabilities
iVend Dashboards
iVend Report Writer for business users
Reports using Crystal Reports
Query Builder – for ad hoc reporting
iVend Web Viewer for viewing dashboards on the Internet or mobile devices
Report scheduler to send standard reports on a predefined frequency
Full Features List
How iVend Reporting & Analytics Works
Don't let problems hang around. When something isn't working, you need to know about it immediately and you need to know how to fix it. Proactive alerting, transaction analyses, and product analyses can give you that advantage and make your business more agile.
How can iVend Retail help?
iVend Reporting & Analytics is a comprehensive suite of reporting and analysis capabilities including customizable dashboards and reports, to provide timely and actionable information to operations teams across channels.