AVAILABLE ON CLOUD
iVend Cloud Overview
In today's digital world where many things can get obsolete fast, it's all about the cloud, and the promise that your data is safe and secure off-site, with 24×7 access.
Cloud technology has made its way into the world of Point of Sale systems, and many business owners are transitioning from hosting their own servers to the simplicity of a cloud hosting.
As one of the few Enterprise-Class Retail solutions available both on premises and on the cloud, iVend Retail caters to the diverse needs of retailers large and small – boutiques, specialty, mid-sized, as well as big-box retailers.
Available on virtual, hosted servers provided by Amazon Web Services and Cloudiax, iVend Retail eliminates many of the logistical and operational challenges in maintaining expensive, resource intensive IT infrastructure. Cloud infrastructure offers daily backups, 99.9% always online functionality and the flexibility of multi-tenant servers.
With iVend Retail deployed on the cloud, back office functions like management of inventory, promotions, gift cards, coupons, stock, cash reconciliation, user permissions and end of day tasks are executed on the cloud – granting store managers and Head Office users remote visibility into enterprise wide operations.
Deliver A Seamless Shopping Model
Uncover the value blending traditional store and new cloud processes in our free whitepaper.
Download Whitepaper
Faster Go-To-Market
Scale your retail footprint faster, without the burden of investing in traditional IT infrastructure at the store OR at the Head Office
Respond faster to rapidly changing consumer expectations
Access the latest technology without increasing budget, while creating an agile infrastructure
Global Reach with Local Control
Eliminate up front capital investments to simplify global expansion
Save on capital investments versus deploying traditional POS systems by running applications on iOS or Android devices
Ensure co-existence of traditional stores with on cloud stores with support for various formats and policies depending upon geography
Streamlined Operations
Free up in-store staff to focus on delivering personalized customer experiences
Run the most updated software – as the entire in-store IT application management is achieved centrally
Centrally manage master and transactional data to ensure up-to-date customer information, including interactions across various touch points – web, mobile, stores
Scalable and Collaborative
Scale up more quickly with support for deployments for everything from pop-up stores to permanent expansions, and scale down just as quickly if business conditions change
Plan for peak load times to avoid overloading systems with appropriate IT sizing
Access Enterprise-Class infrastructure and service without regardless of business size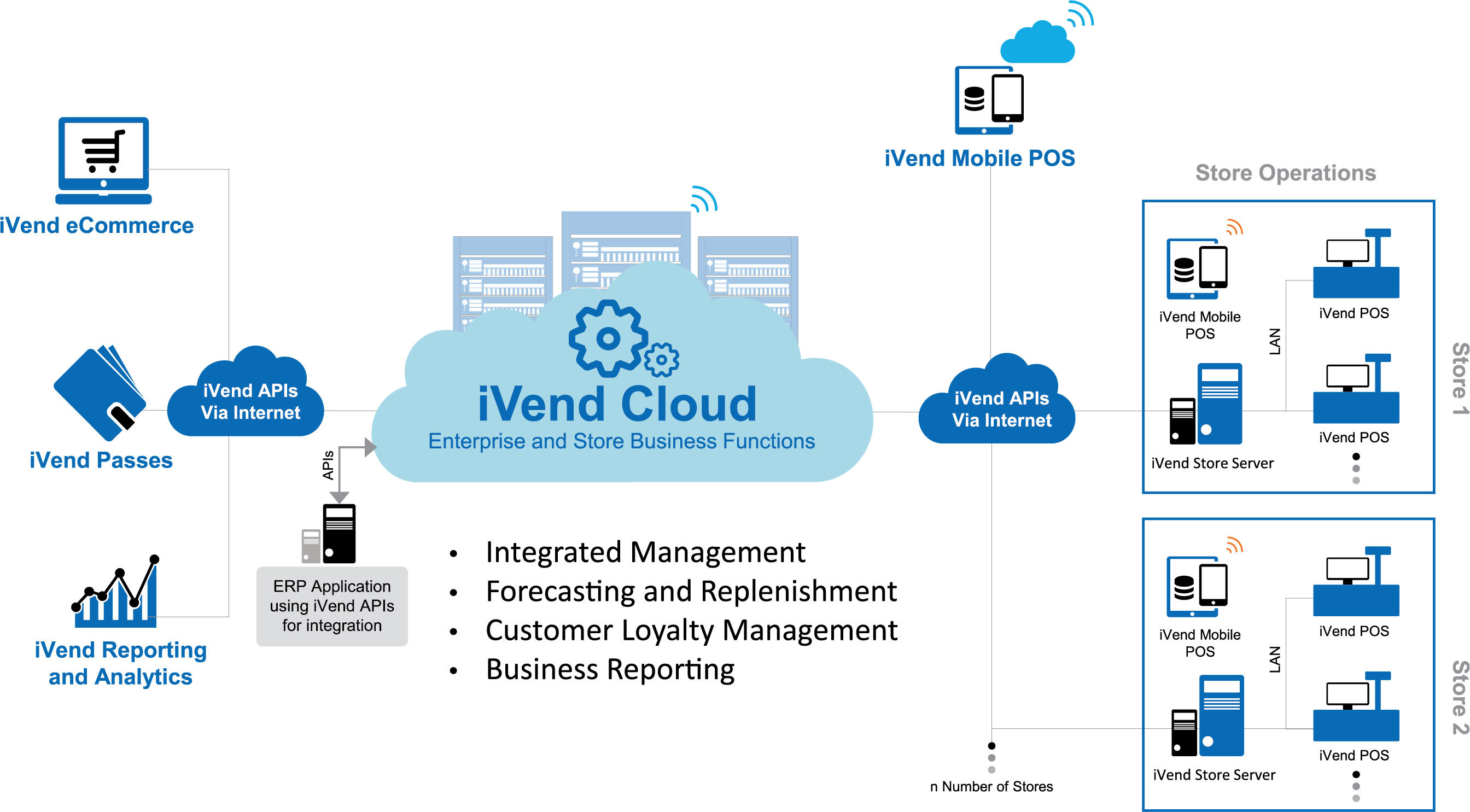 Experience iVend Retail on Cloud
In the competitive world of retail today, agile infrastructure can help businesses grow with a minimal IT footprint.

How can iVend Retail help?
iVend Retail combines  cloud, mobile, and integrated retail management technologies to improve retail business outcomes and your ability to compete. iVend Retail is a next generation retail management solution that runs on cloud and provides fast, reliable services. Watch this short video to learn more about the benefits of deploying your solutions on Cloud.